2017 Caldecott Award for Radiant Child
2017 NAACP Image Award Nomination for Outstanding Literary Work – Children for Radiant Child
2017 ALA Coretta Scott Award for Radiant Child
2011 The Coretta Scott King Illustrator Award Honor Book for Jimi Sounds Like a Rainbow
2011 Bookbinder's Guild of New York, New York Book Show award winner for Jimi: Sounds Like a Rainbow
2010 New York Times Bestseller for Jimi: Sounds Like a Rainbow
2009 Thelma Hill Performing Arts Center Peeks Program, The Creative Process Residency
2007 Humanities Washington Grant The Creative Process (Arts and Education)
Read more on the books page.

Mufaro's Beautiful Daughters Musical National Tour Returns This Fall!
After phenomenally successful tours in the 2008-09 and 2011-12 seasons that visited well over 60 cities, Dallas Children's Theater is bringing back its original musical adaptation of the Caldecott Award winning African folktale. Read more on the John Steptoe website.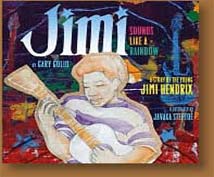 What Javaka Steptoe was doing when he learned Jimi Sounds Like A Rainbow had won The Coretta Scott King Illustrator Honor this January...
Buy this book on Amazon



The Root features Jimi Sounds Like a Rainbow and writes, "Steptoe's work is all the more impressive when you consider that it was done as collage, using plywood as the main pieces."

Listen to Javaka talk about Jimi on NPR.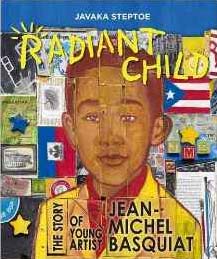 *"Vibrant colors and personal symbols channel the 'sloppy, ugly, and sometimes weird, but somehow still BEAUTIFUL' paintings, incorporating meticulously attributed collage elements and capturing the artist's energy and mystery. Stellar bookmarking--a riveting portrait of a young artist."
―Kirkus Reviews (starred review)
*"In this visually arresting and vibrantly narrated biography, Steptoe... emulates 1980s street art by layering paint, paper scraps, paint tubes, and photos on found-wood panels.... Steptoe downplays tragic elements, instead celebrating Basquiat's irreverence and brilliance."―Publishers Weekly (starred review)
*"Javaka Steptoe is the perfect person to create this book: a tour de force that will introduce an important artist to a new generation."―The Horn Book (starred review)
*"One extraordinary artist illuminates another in this textured, heartfelt picture book biography.... Pairing simple text with expressive, encompassing illustrations, this excellent title offers a new generation a fittingly powerful introduction to an artistic luminary."―School Library Journal (starred review)
Buy this book on Amazon
Read more on the featured page.

| | | | | |
| --- | --- | --- | --- | --- |
| | | | | |
| | Facebook | Twitter | Tumblr | Mailing List |
Read more on the connections page.